3D Printed House: Could It Be A Sustainable Solution for Future Construction in Asia?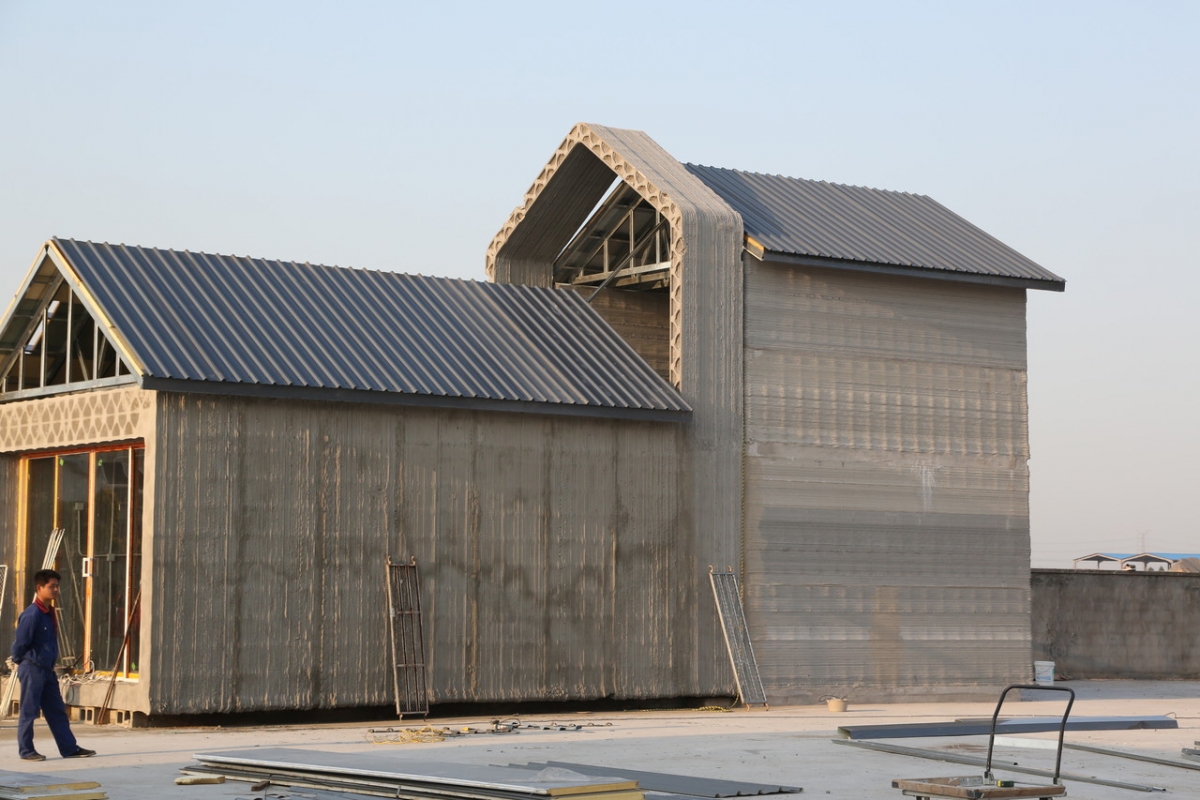 For the past few weeks, 3D printed house in China has been everywhere in the news. Ten homes in a day, that's a possibility the technology has offered. To make it even better, this 3D printed house is considered environmentally friendly because it was constructed from recycled construction waste mixed with quick drying cement.
However, the 3D printer does not print the house in one go. Each house is printed in pieces using FDM (Fused Deposition Modeling) technology. Four massive 3D printers, owned by WinSun, a private firm, each about 6.6m tall, 10m wide and 32m long, spray the mixture to print the walls layer by layer. These walls have a diagonal reinforced print pattern inside it that leaves plenty air gaps to act as insulation. All the printing process are held in the Yingchuang New Material's factory and afterwards, assembled on site. The only part that still can't be printed is the roof.
The 3D printer technology requires less human labor and uses predominantly recycled materials. As a result, 3D printed house turns out to be cheaper. Each of these 200m2houses costs less than US$5,000. In a highly populated country like China where a lot of people are looking for affordable home, that price could be a very good selling point.Despite of all the benefits shown above, this invention still needs further research.
The Doubt: Durability and Environment Considerations
Concrete is widely known as a common material for building construction, though it isn't very strong on its own. So, what about the durability of the 3D printed house? It is built from recycled materials mixed with cement without any reinforcing rebar. Moreover, The FDM technology on the printer is more commonly used for prototyping. Hence, the safety of 3D printed house should be tested. Even the regular structure need to be examined so many times before it's considered safe.
In addition, China hasn't arranged any specific building codes for this kind of house. It seems that the government is still waiting to see how this technology evolve before composing regulations. This, however, didn't stop WinSun, the firm who initiated this invention, to develop a plan to build 3D printed skyscrapers in the future. Even so, the 3D printing technique hasn't met the existing requirements for building multistory structures in China until now.
The other factors that should not be ignored are the material and design. 3D printed house offers a quick, cheap and eco-friendly home, but is it comfortable enough to live in for a long period of time? For example, people who are used to live in a house with a touch of wooden material will find this 3D printed house brings upon some cold atmosphere. There is also an argument about the label "eco-friendly". 3D printer is an energy hog. It spends much energy on the printing process. So, future assessments are still needed to determine whether it's qualified to get the "eco-friendly" label compared to the conventional house.
Future Possibilities
Despite all the arguments above, this invention is still a valuable breakthrough in construction technology in Asia. It brings the possibility of low cost temporary housing in disaster areas. When the disaster is over and it is safe enough for the temporary occupants to go back home ,the 3D printed houses could be recycled to be the 'ink' for another 3D printed house. This invention can also be a sensible solution to make an affordable house for the homeless. Although, on the other hand, if the 3D printer is only used for those purposes, there won't be a big number of investments.
Hopefully, there will be further regulations and improvements for 3D printing technology in the future that would make a new product development,which also focuses on customer comfort. The better quality of 3D printed house will have a big impact on the market, and the higher demand will make the technology become cheaper. With the advantage of cut in material transportation cost along with the high number of population in Asian countries,3D printed house could be a promising niche business to grow in Asia. As for architects out there, the 3D printer technology gives them the possibility to build their most imaginative design.  (AGB.com – YTA)